Good news! Spring has finally sprung and Wednesday afternoon social tennis is due to restart this week on Wednesday 28th March at 5.00 pm.
All members are welcome, just turn up and play!
Family
There will be an after school family session at the tennis club on Mondays from 4 to 6 pm. The idea is to give our junior members a chance to have a knock about with each other (and their families) outside the usual Saturday coached sessions. There will be no extra cost.
Please remember that all juniors must be accompanied for the duration by an adult, and make sure footwear is the non-marking type. Both courts may be used.
Look forward to seeing you there.
Kids' Coaching
From Saturday 3rd March 2018 kids' coaching will be back outside at the tennis club at the new time of 12.00 to 1.00 pm. It's a very popular session so both courts will be used.
Social Tennis
Good news! LLTC social tennis has started on Mondays, on both courts, from 10 am to 12 pm. All members are welcome, just turn up and play. For further information please contact Roger White on 01507 601989.
Winter League Tennis, Sunday 19th November 2017
Louth: 5 Boston A: 3.
Our first win of the season!
Well done to Aden Kidd, Andrew Simpson, Mike Varney and Andy Hawson
American Style Fun Tournament 2017 Results
The winners of the four trophies are as follows:
Ladies' Singles Trophy
The Ladies' Singles trophy is awarded to Bridget Jones who won her match against Tracey Regler in three sets.
Men's Singles Trophy
The Men's Singles trophy was won by Andrew Simpson who beat Mike Varney in two sets.
Men's Doubles Trophy
The Men's Doubles trophy is awarded to Roger White and Andrew Simpson, who won their match against Mike Varney and Charles Watkinson in three sets.
Mixed Doubles Trophy
The Mixed Doubles trophy was won by Tracey Regler and Andrew Simpson, winning their match against Bridget Jones and Mike Varney in three sets.
Thank you to everyone who took part and congratulations to all the winners!
Interskill Boules Day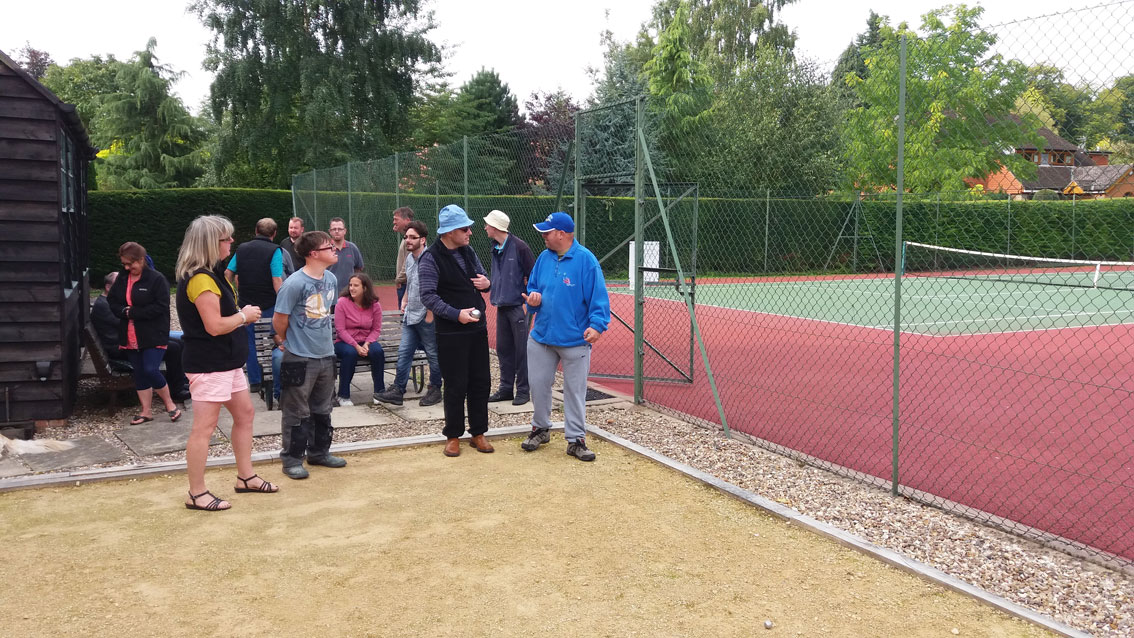 On Thursday the 7th of September the tennis club hosted the staff and students of Interskill for a day of boules and a BBQ. Everyone had a good time, a big thanks to Mandy Stephenson (and Angus) for helping out and explaining the rules. Several of the lads helped to dig out the gravel and get the area ready to lay the piste so it was nice to let them have a go as a way of saying thanks.
LTA Ace Magazine interview with departing CEO Michael Downey

Louth Lawn Tennis Club Juniors -v- Tealby Tennis Cub Juniors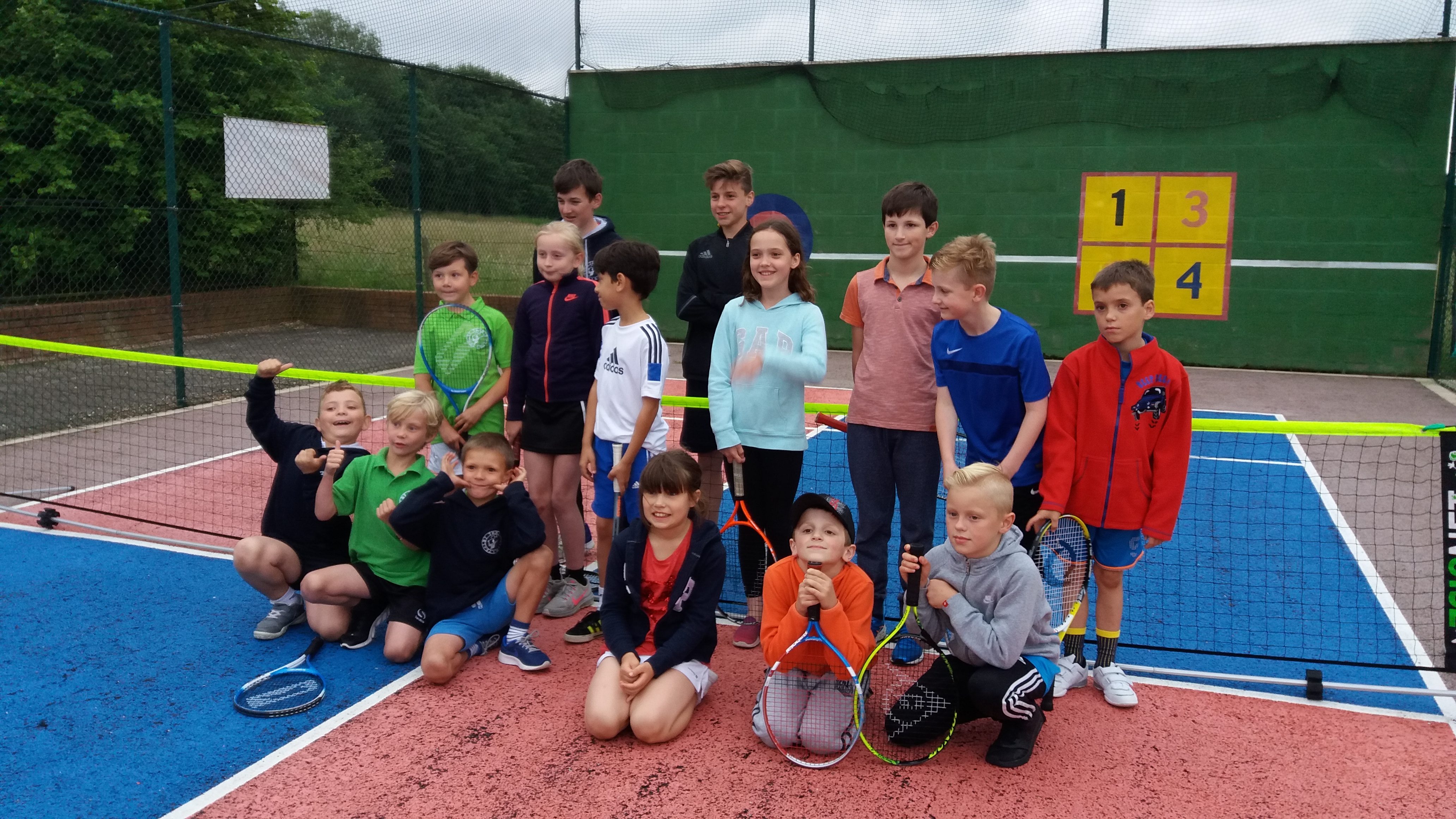 Louth Tennis Club's junior players travelled to Tealby for a friendly Friday evening competition with the village tennis club's youngsters. It was the first match many of the children had played and they did really well showing a great sporting attitude. Each club had a squad of six players who took turns to play against each other in matches lasting five minutes. There were some great rallies in some of the games and all the children learnt a lot from the experience.
Both sides were evenly matched during the first few rounds and the scores were close with Louth edging ahead about half way through.The scores evened out towards the last few matches to set up a nail-biting final two rounds. Tealby's youngsters fought back hard in the last two matches and won by 17 points to 13.
Tealby were excellent hosts and the visitors were treated to pizza, biscuits and squash after the game. Louth will set up a return match at their courts after the summer holiday.
(Sean Topham, proud parent)
Louth Cub Group Taster Session
Please be aware that Louth Cub group will be using both courts next Tuesday evening (2nd May) from 6:30 to 7:30 for a taster session, assuming the weather is favourable.
Social Tennis
Social tennis is now taking place from 5.00 pm on Wednesday evenings. All members are welcome, just turn up and play!
Change to Children's Coaching Times
The times for children's coaching has changed to 12.30 to 1.30 pm on Saturdays.
Saturday 11th March 2017 – Court Maintenance
Dear Member
If you are free then do please come to the courts this coming Saturday (the 11th) from 9:30am onwards to help with some general maintenance work, now that the weather is improving and we are getting more daylight. If you are able to help then please bring a pair of gloves and anything else you are able to (e.g. shovel, wheelbarrow, yard brush). All help would be much appreciated, for however long. We hope to see you there!
Kind regards
Peter Hickman
Secretary LLTC
New Email Address
The club has a new email address: louthlawntennis@gmail.com. Please visit the
'Contact Us' page for the hyperlink.
AGM
The 2016 AGM was held on the 10th of November. Thanks to the Wheatsheaf for providing a room and refreshments (yummy chips!) The new committee was elected, please see our Committee Members page. Welcome Kate Goddard! We thank outgoing committee member Roger White for his many years' service on the committee. Once the formalities were over, Terry ran a quiz with the winning team of Jonny Two (Jim Judge and Jonty Carr) running away with three bottles of wine. "A wonderful and engaging evening" was the typically enthusiastic response from Mr Carr! Minutes from the AGM will soon be pinned up in the clubhouse, should you care to know the ever-exciting details.
Wimbledon 2016 Ticket Ballot
Congratulations to member Bridget Jones who won the club's two ticket ballot to the Wimbledon championships this year. Bridget's tickets were for the ladies' final.
Monday 18th April 2016
10 tons of hardcore was moved from the Wheatsheaf car park to the new boules court on Saturday! Many thanks to all who helped. It's beginning to take shape.
Saturday 16th April 2016
We're arranging more work to be carried out on the boules court this Saturday, 16th April 2016 from 10 am, wheelbarrowing stones from the Wheatsheaf car park to the court. Again, please feel free to come along to help out.
Many thanks to everyone who assisted on Sunday 10th April.
Sunday 3rd April 2016
Thank you to everyone who came along to help with the boules court yesterday morning. We made a good start by digging the drainage ditches and infilling them with gravel, as well as installing some of the edging.
More needs to be done, so please keep an eye on this page for further dates!
Saturday 2nd April 2016
Andy Hawson is arranging a working party to carry out some maintenance work on the general tennis courts area and the proposed boules court, this Saturday 2nd April 2016 from 10 am. Please feel free to turn up if you wish to help out!